Visit our shop today for computer repair in Wilmington NC!
When you visit us at our computer repair shop you get quick solutions to your computer problems at reasonable rates.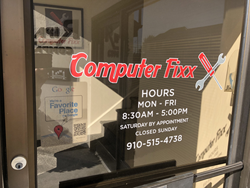 All repairs are done in house by experienced and knowledgeable technicians.
We diagnose computer problems quickly and give you the best solution for your particular issues.
We give you honest answers and advice to resolve your computer problems.
We never advise you to get repairs on a PC if in your particular case it would be more cost effective to buy a new one.
We provide quick turnaround
We are in a convenient location
We are a better value than our competitiors
We have a long list of satisfied customers
Many of our customers are referrals from other customers
We specialize in personal service
Serving Wilmington NC for over twelve years
We let you know how much the repairs will cost upfront