Computer Fixx recovers data from crashed hard drives
Every situation is different, but we've had great success retrieving data from crashed/failed hard drives. We never charge if we can't recover any of your data.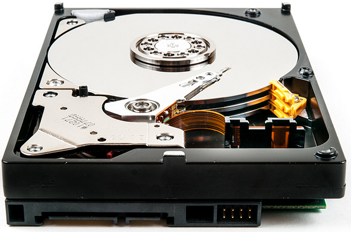 We can retrieve the data from laptop hard drives, desktop hard drives, external hard drives, and USB sticks.
Many people don't realize that the hard drive on their computer can fail at any time causing them to lose all of their important files.
It's very important to backup the data on your computer. Hard drives crash all the time and it can be time consuming and costly to get it back. Your data should be backed up online and/or on an external hard drive.
It's also important to remember that hard drives don't always fail instantly. Sometimes the drive starts making a clicking or grinding sound before it crashes.
Sometimes only a part of the hard drive fails causing the data in the damaged sector on the drive to be lost. When this happens, we can still retrieve the part of your data that's written in the undamaged part of the drive.
Hard drives fail for many reasons including:
Excess heat inside a computer can cause damage to the hard drive platters.
Power surges
Damaged sectors in the hard drive can cause the spindle motor to stop working.
The moving parts of a hard drive can degrade over time due to wear and tear.
Malware can erase hard drive data and alter hard drive operation.
Improperly shutting down your PC puts stress on the hard drive.