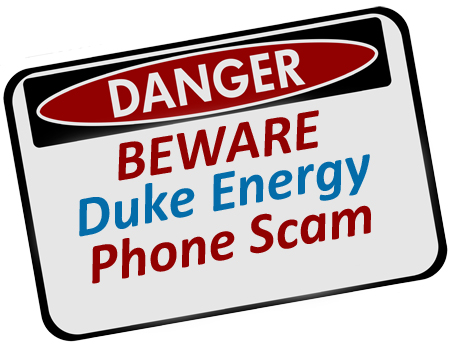 I've had two of my customers in the last couple of weeks tell me that someone attempted to con them out of money by pretending to be from Duke Energy. This scam has been going on for a year or two now, but it appears to be worsening.  The Duke Energy website reports that this type of swindle more than doubled in 2015.
One of my customers said she was called and told she hadn't paid her electric bill and that someone from Duke Energy was on the way over to her business to turn off the electricity unless she allowed them to charge her credit card for $450.00 over the phone. Luckily, she knew that her electric bill was automatically deducted each month from her bank account, so she decided to go in person to Duke Energy and make sure there hadn't been a mistake and to report the incident.
My other customer was also called by someone claiming to be from Duke Energy, but he just hung up on them and found the phone number for Duke Energy online and called them.
The Duke Energy website says that customers in five states have been targeted by these criminals and that customers have lost hundreds of thousands of dollars to these con people.
Find out more at: Duke Energy Scam Information