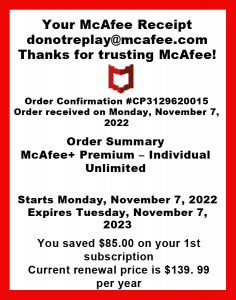 I've seen this particular nasty scam several times in the past 4 or 5 months, and usually the victim is tricked into giving them permission to receive notifications from their shady websites. The criminals send notifications to the victims that promote various scams including clickbait that lures people into visiting spammy, untrustworthy websites and downloading sketchy apps.
But the criminal software in the computer I saw today had taken a different approach. They sent the victim a pop-up add, pretending to be McAfee antivirus which locked up the computer. The victim clicked on the link in the pop-up because he didn't know how else to turn it off. It directed him to a website that said he had to buy and download McAfee antivirus for $59.00. He paid the money and they charged his credit card $59.00 for a nonexistent antivirus program that he thought was McAffee and they added a subscription to his credit card for $139.99 to renew it. The email he received as a "receipt" said the renewal was for once a year, but when he contacted his credit card company and they figured out who had charged his card, the criminals had set-up a renewal subscription for once a month for $139.99.
Many times when strange pop-ups appear on your computer, you can get rid of them by pressing the control/alt/delete buttons at the same time which makes the task manager come up. The pop-up will be listed there and you can click on end task and it will turn it off.  Sometimes, simply restarting your PC will get rid of the pop-up. It's far easier to try these two things first than it is to remove this nasty pop-up manually. It just doesn't pay to click on strange pop-ups that appear as you are surfing the web.