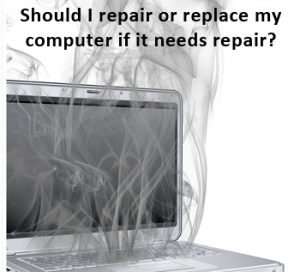 Questions to ask yourself before deciding:
How old is your laptop/desktop computer?
If the computer is three years old or less it's quite likely worth repairing.
Is your laptop/desktop computer an Apple or regular PC?
The Apple computers generally last quite a bit longer than regular computers, though they cost more upfront.
How much did you pay for your laptop/desktop computer?
If the laptop/desktop computer was at the lower end of the price range, you might consider replacing it. However, if you paid for a high end computer, with lots of resources then it might be worth repairing.
How much would it cost to repair the laptop/desktop?
If the laptop/desktop computer repair would cost half or more of the price of the computer when it was new, then you might consider replacing it.
Are the stores selling computers at a good price at this time?
There are certain times of the year, like back-to-school or black Friday or times when some new technology comes out that manufacturers greatly reduce the cost of the outgoing technology and that is a good time to get a good deal.
What do you want your laptop to do?
Was your laptop/desktop fast enough before it needed a repair?
Does your computer have the latest operating system installed? If not, can it run the newest operating system?
Does your laptop/desktop contain a manual hard drive or a solid state drive? The solid state hard drives are faster.
Is the laptop/desktop case in good condition? Is it filled with dents and scratches? If it's a laptop do all the keys on the keyboard work?
Is the hard drive on your computer large enough to hold all the software and documents, pictures, videos, etc. you need?
Weigh all the pros and cons of repairing versus replacing your laptop/desktop before making a decision.