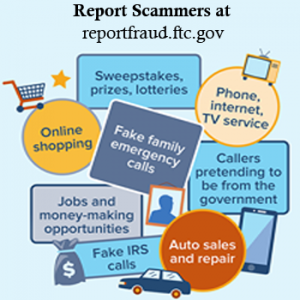 Telltale Signs You're Dealing With a Scammer – Please Visit the Federal Trade Commission Website for More Information. 
Scammers pretend to be from government organizations everyone has heard of.  For example, they often pretend to be from the Social Security Administration, the IRS, or Medicare.  They may also pretend to be from your bank or utility office.  They also masquerade as UPS or FedEx.
Scammers tell you there's a problem or a prize. They sometimes say you're in some kind of trouble with the government because you owe back taxes, or you've committed some sort of crime on the Internet. They sometimes say someone in your family has had an emergency or that you have malware on your computer.  Some scammers say there is some sort of problem with one of your accounts and your information needs to be verified.  Still others pretend you've won money in a lottery or sweepstakes and you just need to pay a small fee to get it.
Scammers pressure you to act immediately. The key to their success is to get someone to act quickly before they've had time to think it over or check out their story.  They sometimes threaten to arrest you, sue you, take away your driver's or business license, or deport you.  They may say your computer is either corrupted or about to be.
Scammers tell you to pay in a specific way. For example, they might want the money wired to them or they want money put on a gift card and then ask for the number on the back of the card so they can obtain the funds.  They may ask you to fax or email them a copy of one of your checks which contains the routing number to your account and also the name and address the account is listed in.
How to Avoid Scams
Block unwanted calls and text messages.
Legitimate organizations won't call, email, or text to ask for personal information, like your social security, bank account, or credit card numbers.
Be especially leery of anyone who tries to pressure you to act immediately.
Never pay anyone who insists you pay with a gift card or money wiring company. Never deposit a check and send money back to someone.
When in doubt, talk it over with a friend or family member. Talking about it might help you realize it's a scam.
Report Scams to the FTC
If you have been scammed, report it to the Federal Trade Commission.  They have excellent information for consumers about scammers and what to do if you have been scammed.