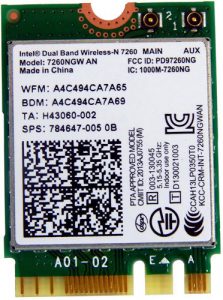 I recently worked on a Lenovo ThinkPad W540 laptop. The customer had upgraded this Windows 7 PC to Windows 10 a couple of years earlier and had never had any problems until recently when it started dropping off the Internet every 2 or 3 minutes.  She had always used the laptop with a wired connection but recently started using a wireless connection instead and this is when the Internet started dropping.
At first, I thought maybe it just needed new drivers but that didn't fix the problem. I upgraded the BIOS which also did nothing to help. I removed the last Windows 10 update, as these updates often cause problems of one kind or another, but this didn't help either.
I finally checked to see if her wireless card was compatible with Windows 10 and found out it wasn't. The original card is AC7260 which is compatible with Windows 7 and 8.
I found a card that is compatible with the Lenovo W540 that would work with Windows 10 and found the N7260 which works fine in this computer.  Problem solved with a new $10.00 wireless card. The customer would have discovered this right after she upgraded to Windows 10 if she had ever used the PC wirelessly.